We love Halloween and here are some recipes/art projects we have done in the past and the kids have loved doing them! My kids love dressing up for Halloween, they love doing Halloween art projects and they love making Halloween cooking projects.


1/2 cup canned pumpkin
3/4 cup milk or vanilla yogurt
1/4 tsp. cinnamon
1/8 tsp. nutmeg
2 tsp. brown sugar
4 ice cubes


Directions

Combine ingredients in blender and puree until smooth.

Pour the smoothies into small glasses (this drink is rich) and garnish each with a dollop of vanilla yogurt or whipped topping. For a fun touch, add a pinch of cinnamon or a few colored sprinkles. Serves 2 or 3.


Ingredients

1 large flour tortilla per person
1/4 cup olive oil
Salt

Directions


Preheat your broiler. Using Halloween cookie cutters, cut each tortilla into bat and ghost shapes. Lightly brush both sides of each creature with oil. Arrange on a cookie sheet or jelly roll pan. Broil, flipping once when they begin to brown. When brown on both sides, lightly sprinkle with salt.



Material:

Gallon Glass Jug (we used an old glass jelly jar)
Orange & Black Paint (acrylic enamel or glass paint)
Set of 35 Mini Lites
Raffia
Sea Sponge

How to:

Begin by painting your jug with a sea sponge, gently patting on orange paint over the entire outside surface of the jar. A regular sponge will work but the effect will not be as nice when the jar is illuminated.

Allow the paint to dry and follow paint manufacturer instructions if heat setting the paint is required.

Once the paint is completely dry, paint a face with black paint; refer to the photo for details or look at other pumpkin face designs for inspiration. To add a little extra to your design, paint fine lines with black paint around the jar (see photos for detail).

Tie raffia around the neck of the jar and insert mini lights after all the paint is dry and light up. They really are pretty!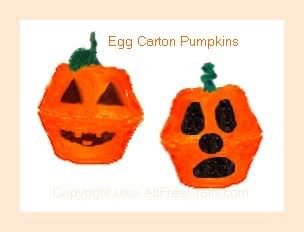 What You Need:
cardboard egg carton
orange craft paint
black or yellow craft paint (or black marker)
green twist tie or piece of chenille stem
newspaper
scissors
craft glue
rice, beans, or candy to place inside the pumpkin
optional: green silk sleeves, or leaves cut from felt or construction paper
Craft Project Instructions:
1. Cut two cups from the bottom of an egg carton, then trim around the top edge of each cup to make it even and tidy.
2. Spread newspaper on your work surface, then turn the two cups upside down on the newspaper. Paint the cups orange and let dry.
3. Turn the cups over and partially fill one with a little rice, beans or something similar to add weight and stability to the pumpkin.
4. Apply glue to the rim of the bottom cup and put the top cup in place. If necessary, touch up the orange paint around the center line.
5. Use the tip of the scissors, or a pencil point, to poke a small hole in the top of the pumpkin.
6. Cut a length of chenille stem, or a twist tie, to use as the pumpkin's stem. Dip the end of the stem in a little glue, then insert into the hole at the top of the pumpkin.
7. Paint a face on the pumpkin to look like a Halloween jack o'lantern.