Are you feeling guilty for leaving the windows open to catch a breeze when you know the air is on? Feel like a bag lady for wearing the same shirt for days on end? Get tricked by a fake news story and feel foolish? We'll don't!
Not Me!
Monday was born out of my desire to admit some of my imperfections and reveal a few moments I'd rather forget. You may find it therapeutic to join in and do the same thing!
Head over to
MckMama's
blog to see why everyone else isn't perfect!
I would never spend my entire week sorting through things, cleaning, playing with the kids and doing blog makeovers, and end up with 5 loads of laundry to do and 2 bathrooms to clean on Sunday. Who would want to be stuck doing laundry, while everyone else is having fun watching football and relaxing on the couch. Certainly Not Me!

We did not go and look at 4 other houses this weekend and only really like one! I am not still upset about loosing the house that we really wanted. There is no way that it was perfect for our family and my daycare. Ugh!

While going out for our second night out with no kids this weekend, I would never take advantage of hanging out with friends and not having kids pull at my pant leg, saying 'I'm tired, I want a snack.' I did not look at the time around 11 o'clock and think, wow, we should be getting home, I am getting tired. I then would never finally get up and stop talking around 1:45 am. My hubby and I most certainly did not have a complete blast!

For the night out with our friends, I would never try on about 8 shirts, that were no-maternity shirts, to try and wear something different and cute. I would never think to myself that I could possibly pull off a non-maternity shirt at 35 weeks prego!

I did not go into my bedroom on Sunday night and see this....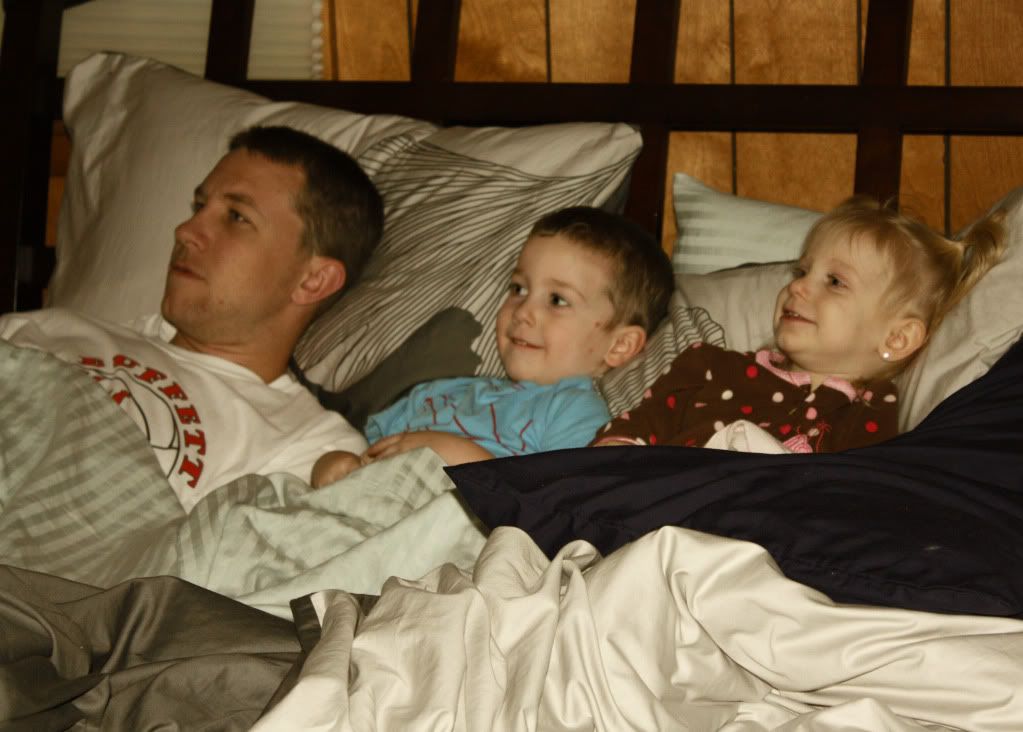 ...and think it was the cutest moment of the entire weekend! I would never go run and get my camera, just so I could treasure this moment for years to come.