Are you feeling guilty for leaving the windows open to catch a breeze when you know the air is on? Feel like a bag lady for wearing the same shirt for days on end? Get tricked by a fake news story and feel foolish? We'll don't!
Not Me!
Monday was born out of my desire to admit some of my imperfections and reveal a few moments I'd rather forget. You may find it therapeutic to join in and do the same thing!
Head over to
MckMama's
blog to see why everyone else isn't perfect!
I
did not
have Wednesday through Friday off of work, cause the little boy I watch was sick. I took the kids to the indoor play park on Thursday, to get some time to lay low, while they ran off some energy. I
would never
take them to McDonald's, just because it was in the mall, easy and convenient. I
did not
find Chase and Abigail's finishing touches to their Christmas outfits, while I was there. I
am not
super excited to get Christmas pictures taken by a friend you all might know...Erin over at
It's All About Alex
.
I just have to try and wait for this baby to come, so baby #3 can be included in the Christmas pictures.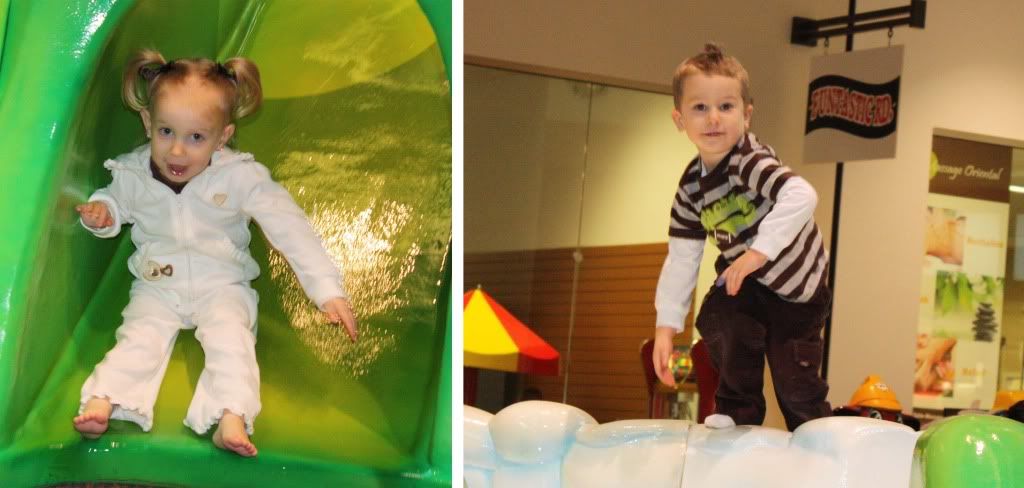 I ended up going to the doctor's office late Thursday afternoon, cause I was having contractions and they wouldn't go away. I thought they might be Braxton Hicks, but they had already lasted for more than an hour and a half. I got to the doctor and there is
no way
they would look at me and say, "You are supposed to be at a different office." I
would never
come back with a remark like, "I remember very well that I asked for this office, cause it is right by my house." I never go to the other office. They got me in and did an exam, confirmed that I was having 'not fun' contractions and that I was dilated 2 cm. They told me to go home and see if they got worse. They ended up spacing out and I have been having them every so often since then, but nothing has changed. They said that I will probably go sometime in the next 2 weeks.I
am not
super happy about this news!
This weekend was not filled with fun family times that are fun traditions that I can't wait for every year. We did not have a huge cookie bake at our house on Friday night, with over 20 family members. We were not all 'wearing' flour, sugar sprinkles and cookie dough, while singing Christmas songs in the kitchen. Somehow, most the cookies did not get left behind at our house and there is no way we have been eating them ever since.


We took the kids to the Macy's display this weekend and Abby was in love with the whole display. It was the same display as last year, but they changed a few things and added some new stuff. At the end, as a tradition, we got huge cookies, that we can never finish and there is
no way
Grandma bought both the kids their own huge beautifully frosted sugar cookie, for $4.25, that they both took one bite of and said they didn't like it.
I
would never
be ecstatic about having a 2 day work week!