The winner of the giveaway from
is...

Congrats Amy, I will get your info over to Kim. Thanks again to everyone who participated. Don't forget to stop over at Kim's
Etsy shop
to get your own headband, they look adorable on any little princess head!
So, I made this REALLY easy dinner last night and I can honestly say, I am not one for 'Hamburger Helper' type meals, but this was so good, I am wishing there was leftovers right about now! So, what do I do when I make an awesome 'Guinea pig dinner' (as my husband calls it) and it turns out great?!

Share it with all of you.

Bacon Cheeseburger Pasta

Ingredients:

1 lb. ground beef

8 oz. of penne pasta

1 can (10 oz.) of Tomato soup (I used tomato sauce)

8 strips of bacon-cooked and diced

3/4 cup shredded cheddar cheese

Salt and Pepper to taste

Lowery's Seasoning to taste (it didn't call for this, but I added it and it added a lot of flavor)

Directions:

Cook the Penne pasta according to the box. In a large sauce pan, brown ground beef on Medium, till brown. Add can of tomato soup/sauce and mix well. Season with salt pepper and Lowery's seasoning (if you choose to). Add cooked/drained pasta to meat mixture. Mix well. Add bacon and cheese and cover with a lid. Let cheese melt and then serve.

I hope you like it as much as we did! Even my kids loved it and that means it is a for sure 'make again' recipe.

::

This past weekend, my in-laws took the kids to Build-a-Bear workshop. The kids love picking out their own animal to stuff and seeing how's it's made. This year, Frosty the Snowman was an option, and Chase and Abby love Frosty. Chase picked Frosty, who lights up and has the Frosty the Snowman song in him and Abby was undecided for awhile, but ended up with Hello Kitty.

They had a blast and love their new stuffed animals.

Thanks Grandma and Grandpa O!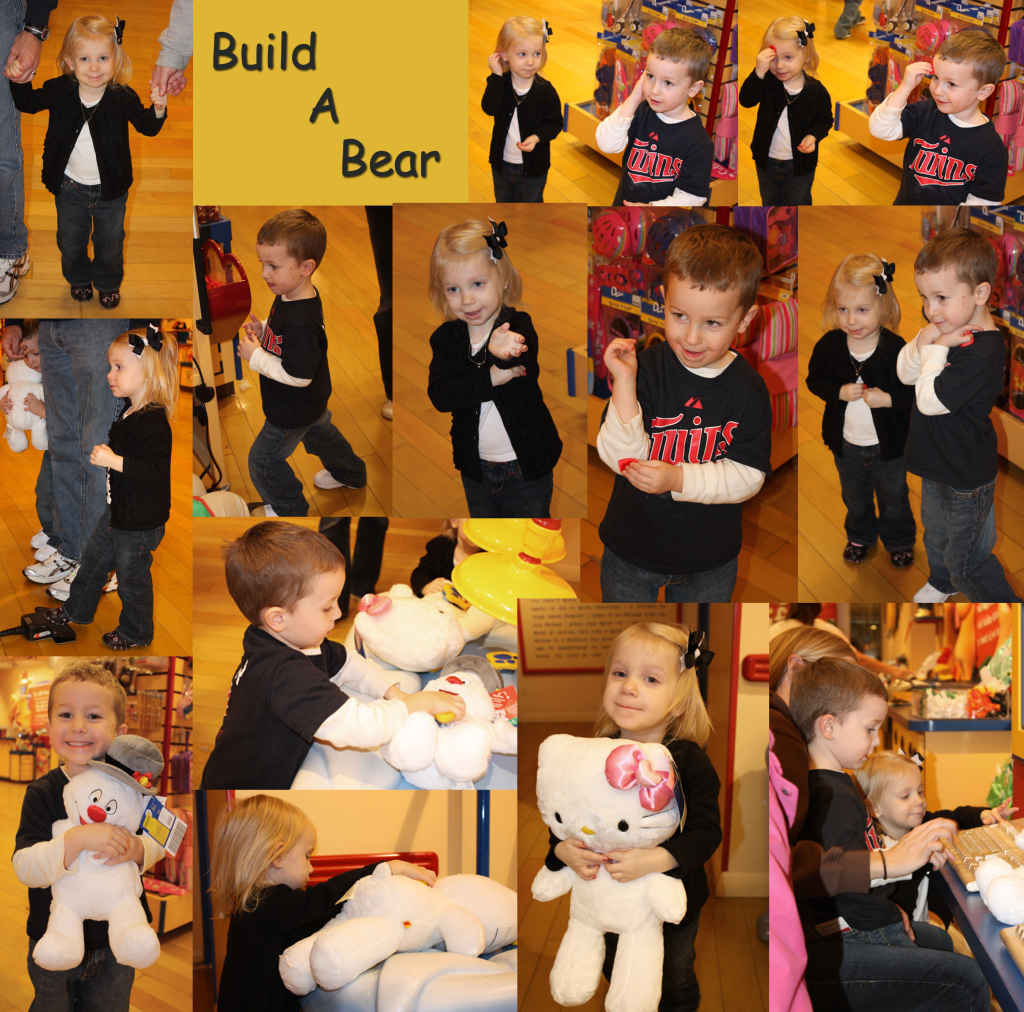 Have a great day today, we are painting hand turkeys today and headed outside to run off some energy.