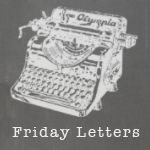 Dear sickness- that is attacking my little boy. GO AWAY! You have been here long enough and given him enough immunities, so please leave quietly. It saddens me to hear him cough, cry and even to have to Neb him, so please sneak away unannounced! NOW!
Dear mess from JBF- that sits in my dining room and covers my kitchen table. You are so time consuming and I work on you every chance I get, but you don't make it look like I am getting any closer to being done. I should have listened to my conscience and donated everything to Good Will.
Dear weekend- I have been patiently waiting for your arrival. It has just been one of those weeks that needs to be over. It is not always easy finding the good in everything and it can be stressful. Please take as much time as you need and stay for awhile! I have to chip away at my To-Do list that is just as long as last Friday.
Dear Chase- I know you have the attention span of a flea (just like your mom and dad did as kids) but if you are going to learn how to read better, you are going to have to work at it. While you are working on that, please also keep in mind that you need to pay attention in class and not let others distract you. You are only in 1st grade, that is too young to start getting check marks next to the
__X__ Work on paying attention to the teacher
on the sheet at your conferences. You cooperation would be greatly appreciated! Thanks, I love you!
Dear Miss Abigail- Mommy can only take so much drama. Please try to keep it to a minimum...for your sake AND mine! I love you!
Happy Friday!!