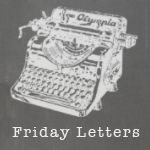 Dear Life - You are crazy busy and have my head going a mile a minute. Please give me a break and turn this new year around quick! My body/mind can't take it!
-Sincerely going bananas!
Dearest hubby -
I THANK YOU so much for being the biggest help these past 3 weeks
!
I might have been crabby and complaining now an then...but I LOVE you more than words can say!
Dear mother nature -
Thanks for the break today in the bitter cold tundra! My kids love to play outside and the weather hasn't permitted, so please stick to the higher than 25 degree temps.
-with much love, mom of 4 kids full of energy!
Dear laundry -
I don't like having enemies in life, to tell you the truth, I will do
anything
to avoid having/being an enemie...but you are ranking
pretty close
to the 'enemie' title. I mean, I do every last sock in the laundry basket and
POOF
, you are somehow completely full again! I love my four kids and hubby...but man, they make a lot of dirty laundry!
Dear my ongoing To-Do list -
You are getting
longer
and
longer
and trust me...I
didn't
forget about you.
How could I
forget about you when I add something new to you every other day.
Let's find some time to start crossing some things off, to make me a one
happy
mama!
Dear 'Baby Bangs' - My baby is 9 months old...what in the world is wrong with your schedule. I would really like to have normal hair again. I miss it being easy to do my hair in the morning.
- time crunched mam of 4