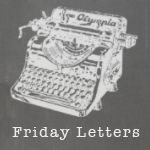 Dear Treadmill- Thanks for the long runs in my quiet basement! I know I had been forgetting about you, but you have waited long enough for my attention. My silly consequence has signed up for my first 7k...we will be seeing more of each other daily.
Dear my wedding video-

Thanks SO much for the running distraction. I have never been one to enjoy running, so to watch myself on one of the happiest days of my life, makes time go a little faster and it a bit easier. NOT to mention, watching a video of myself weighing 110 lbs., makes running to get fit, that much easier!
Dearest Kenzie- Thank you for all the laughs lately. I think your little big personality is starting to shin

e

bright. I love your 'big' words and phrases, especially when you try to repeat something daddy o

r I said.
Y
ou can put a smile on my face day in
and
day out!
D
ear
this weekend- Thanks so much for arriving! I couldn't be more excited to finally have a girls weekend! It will be so nice to have a kid/hubby free weekend, to have some much needed GIRLS time! Wine, scrapbooking, dinner and gossip...here I come

!
(Good luck to my wonderful hubby with all 4 kiddos!)
Dear Chase and Abby- I was so impressed at your

conferences

last night! Thanks so much for being

respectful

, well behaved children that the teachers enjoy having as students! Keep it up

!
Dear Blake-

I know I might abuse the provlidge of

snuggling

with you, since you are my last baby, but thanks for bearing with me. I appreciate all the snuggles I can get, e

s

pec

ially the morning ones and after nap time too!
-love your super happy mama