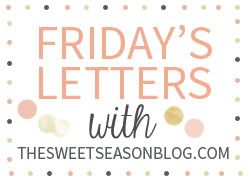 Dear Blake
- I am pretty sure you have been sick more than healthy for your 11 1/2 months of life. Lets take age ONE and make it our sick free year!
Dearest laundry, I am not sure how you always make it on my blog, but if there wasn't so much of you, I wouldn't have to talk about you all the time. I am sure I will 'enjoy' doing you more, once my amazing dad builds me my washer and dryer pedestal for my birthday.
Dear Norwex- Now that I use a ton of your products, please keep the germs out of my house. I simply love your mop, so easy to use and fast too. Your anti-bac washcloths are amazing too!
Mama.that.loves.to.clean!
Dear weekend- Feel free to take your time! I don't mind one bit, this mama needs some family and relaxing time!
Dear March
- Thank
SO
much for coming! Not only is this the
greatest
month
(since it's my birthday month)
but it also means spring! Thank goodness for open windows and more walks outside!
Dear Hubs- I am hoping it wasn't intentional that you left these on the counter this morning...
They definetly aren't on my diet and you know my weakness for Samoa cookies...
Don't forget to enter in my Ask Anything GIVEAWAY!