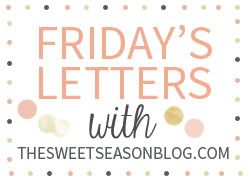 Dear Pinterest- Your DIY projects are VERY addicting. For the most part, mine are turning out pretty good and my house is becoming very Eastery! Thanks, but it you could just be a little less addicting, my bathrooms might have a chance to get cleaned.

Dear Kiddos, I know that you have endless energy, and I know that you happen to be off school today, but I am not sure why you find the need to bounce off the walls like bouncy balls.
Dear Christmas Tree- I am not sure how you have managed to be almost covered in snow and have yet to make it in our garbage can. Please just jump in our garbage, the next time you happen to see the garbage can out.
Dear Hubs- You are SO lucky to have such a wonderful wife

(if I do say so myself)

I must be a

rock-star

to be able to hold down the fort for the next couple weeks, while you are gone on your business trip and then off to Vegas!

(must be rough)
Dear my chef self- You are on a roll with amazing dinners! Dinner that taste great, the family likes and I will actually eat the leftovers.
Dear March- Thank you for coming. Not only is it my birthday month, but it also means spring is right around the corner. Bring on the sunshine!
Dear Blake- How are earth are you turning ONE this month? In 11 days to be exact! Time sure flew by this past year and can feel free to slow down at anytime. With that being said, I can't wait to have your Mickey Mouse birthday party!