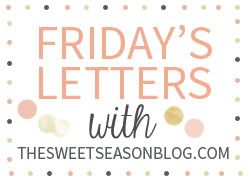 Dear MN weather - I know you are extremely unpredictable but in all seriousness...Spring was here. The snow all melted, we went through the wet grass grossness and we were ready for warm weather. Now 7" snow later...ugh! One reason why I someday will move to Colorado.
Dear Blake - I know you have finally mastered walking and have decided you are going to go right to running, but please slow down...you are mama's last baby! You are growing up too fast. It is understandable that you have to chase to keep up with your 3 older siblings, but you are my baby and life is flying by way too fast!
Dear Hubby - I know I can be moody when sick and I thank you for being the patient and understanding hubby that I love! I promise once spring decides to stay...I will be a happy girl.
Dear Garbage man - Thanks for stopping before my house, when I ran out in my tank top, yoga pants and towel on my head, to try and fit 3 more big things in the garbage. Thanks for laughing and waiving...I am sure you were laughing with me and not at me...right?!
Dear Mom and Dad - Please stop sending pictures of the gorgeous weather in Puerto Vallarta. It is making me extremely jealous and with there being 7" of snow on the ground here, it is depressing. I guess it just makes the wait until our trip to Mexico in November well worth it.
Dear Chase - I would think at 7 years old, you would know how to change your underwear daily, but when I do the laundry, I only find 2-3 pair in the wash. I understand that you have your few favorite pairs, but come on son, that is just gross. Please ask your mama to buy more of your favorite pairs, or learn to like the other ones. -Sincerely mama on 'stink patrol'
Dear Weekend - Please feel free to go very slow! We have a lot to get done and I have a feeling you are going to fly by, like you usually do. We are going to attempt to build Chase's loft bed and paint the entry way, among a birthday party, and getting together with friends.
Dear Google - Why must you be so difficult? I guess your Google friend Connect following button is leaving, so if you enjoy stopping by and reading, please follow me with Bloglovin'
Dear readers - Thanks for all the sweet comments lately, I really appreciate the feedback and love hearing from all of you. Blogging is my 'happy place' and it wouldn't be the same without all of you!