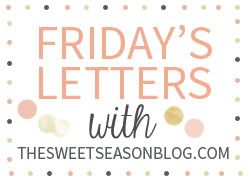 Dear self - For the love of pete, realize that at the moment, you are 'out of commission' and need to take it easy. The laundry can wait, the dishes are ok to sit till the hubby gets home and the floor doesn't need to be vacuumed every other day. Having to 'take it easy' is really tough for me. I am not used to the words 'slow down.'
Dear life - Being out of my norm for a few weeks, I would greatly appreciate you slowing down. I can't remember the last time I was this stressed. Please feel free to pause and resume in 2 weeks.
Dear spring - Thanks for finally coming and deciding to stay. The glow of my casper skin appreciates the vitamin D!
Dear my two girls - Please bear with mommy and give me a hand or two in helping me keep your room clean. I know that it isn't the biggest room for two little girls with tons of clothes and toys, but honestly, if I ask you to pick up your stuff again, I just might loose it!
Dear Garbage Man - I am sure you are getting used to me running things out last minute, and I greatly appreciate you taking all our junk and garbage. The other day was it really necessary to honk and wave when you saw me running back into my house?!
Dear 'BFF' - Thank you SO much for all your help this week with my kiddos!! I greatly appreciate all your help and taking time out of your day to come and help me. Not to mention, I do love our fun conversations and enjoying coffee together! You rock!
Dear Hubs - Thanks so much for all your hard work and help too! Maybe this is just a small taste of how amazing I really am when I am 100%! Love you!
Dear Abby - I can't wait to watch your dance recital...you amaze me with how much you remind me of myself as a kid! Dancing around with a huge smile on your face!
Dear weekend - Please take it easy on me and stay awhile!