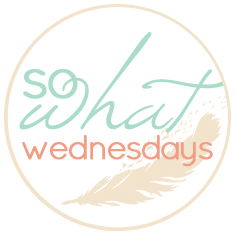 This week I'm saying So what if...
-It is 9:45 at night and I am just now writing this post! I had a full day of getting stuff ready for my SIL's garage sale. I mean...I just kept finding more stuff to get rid of!
-The day I got off weight restriction from surgery, I cleaned my entire house and was actually one happy mama, being able to vacuum again! I mean, it drove me crazy to not be able to clean for 3 weeks! Ick!
-If I finally lost 10 lbs. and then had a cheat day and ate a whole bowl of popcorn to myself. I tell you...popcorn is my weakness!
-I let my kids stay up till 10 o'clock last night watching a movie. It is almost summer and I am the mama...so there!
-I am procrastinating about making Abby's 6th birthday invitation. Part of me doesn't want her to turn 6 and my mind is telling me if I keep putting it off, she won't get any older.
-I am scared silly about school being out! I love my kids and can't wait to spend summer with them, but I think I am going to try and pack too much into every day and wear us out too soon. Control and pace!
-If I have had the same 10 things on my To-Do list for the last month, I will get to them someday....hopefully!
-