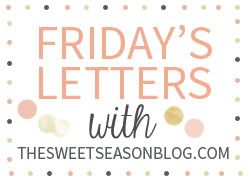 Dear Hubby
- Thanks for helping me plant the garden. I know I am not a 'green thumb,' but the kids love it and
hopefully
we can get at least a few veggies out of it! Thank you also for giving in and getting me a new bike...I love it and the kids love going for bike rides.
(And...it's exercise!)
Dear Blake- You are crazy busy, always on the move and I feel like you never stop. PLEASE try to be careful, as I might be looked at funny if I were to wrap you in bubble wrap. Keep your hands off the stove, stay out of the fireplace and stop playing in the toilets!
-your very stressed out mama
Dear Abby- I am really praying that this is just a stage you are going through, whiny, sassy and selective listening. What happened to my not picky, great helping sweet girl?
-your mama who has had enough
Dear Mother Nature- There is no reason we should be wearing coats and sweatshirts on the last day of school. I have had enough of the rain and could go for a warm sunny streak for more than 2 days! Please rain, move on...we want to play outside!
-sincerely mama with 4 kiddos, with lots of energy
Dear Weekend- Please see note above!
Dear Summer- Take your time in rolling by. We have lots to do and there is much fun to be had! Swimming, sports, crafts, picnics, kites, parks, camping...here we go!
Dear Garage Sales- I don't know how you always call my name as I drive by, but come on....I am trying to cut spending! I would really like to move next year, so if you could please hide as I drive by, by wallet and hubby would really love you.
Have a fabulous weekend!!